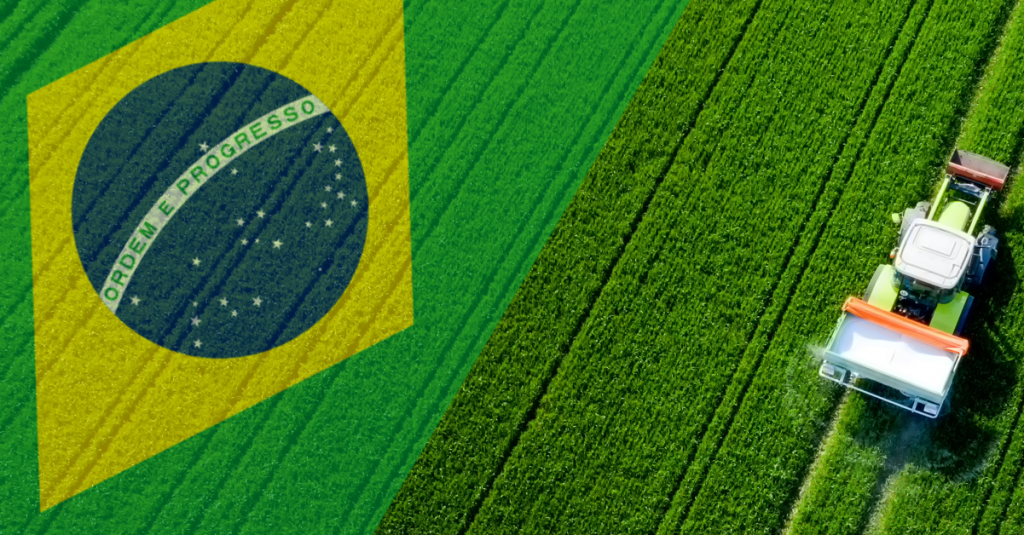 Brazil is the 6th largest country in the world with a total area of 8,515,770 km2 and a total population of 212,216,052 inhabitants (in 2020). Most of its territory lies between the Equator and the Tropic of Capricorn, occupying almost half of South America. This vast area gives rise to a great diversity of climates and crops. Agriculture land covers 7.67% of the country's total area (about 653,388,804 ha), and agriculture accounts for approximately 21.4% of Brazil's GDP, employing around 9,2% of the total national workforce. Brazil's most important crops are (according to overall production): sugar cane, soybeans, corn, cassava, rice, bananas, cotton and coffee. It is the world's leading producer of sugar cane, soybeans and third overall in corn production, only surpassed by the United States and China.
The Brazilian Government publishes all registrations of new crop protection products, expiries and changes affecting the already approved products, in the official DOU (Diário Oficial da União). This information is reflected afterwards in Agrofit, a dedicated portal for general information about pesticides in the country, managed by the Ministry of Agriculture.
Homologa® compile both sources (DOU publications and labels published in Agrofit) and therefore, offers a complete dataset with full details for every product registered in the country (including all modifications). In addition to this compilation, Homologa® includes Technical Products registered in the country, following a similar compilation process as for the pesticide registrations. Only by evaluating these data sources together it is possible to have the most up-to-date and reliable version of the crop protection data available in the country.
Homologa® compiles and standardizes both data sources and uploads the complete dataset 10 times a year. This dataset contains the following information:
General product information:
Product name
Current state (approved/expired)
Toxicity
Formulation type and class
Registration number and date
Expiration date
Holder
Technical products
General Active Ingredient information:
Active Ingredient name
Concentration and unit
General usage information:
Full crop and crop stage information
Full pest and pest stage information
Dosage
Post-Harvest Interval (PHI)
Number of treatments and intervals
Methods of applications (including seed treatments)
Organic production
Other GAP info such as crop and pest stages among others
Homologa® always keeps original descriptions in Portuguese for crops, pests, stages, and usage information in Brazil, together with their translations and standardization codes included in the Homologa® dictionaries. In addition, a detailed crop split is performed for all original crop groups according to national standards and/or relevant descriptions.
New additional sources will be added soon to the national dataset including for example, fertilizers available in the country. All these features allow Homologa® to offer the most complete pesticide dataset for Brazil in the market, which entails a highly enriched version of the Government information and labels published by the Ministry.
Please visit Homologa® or contact us for further information about Brazil or any of the 93 countries available in our database.
Source:
WIKIPEDIA: https://en.wikipedia.org/wiki/Agriculture_in_Brazil