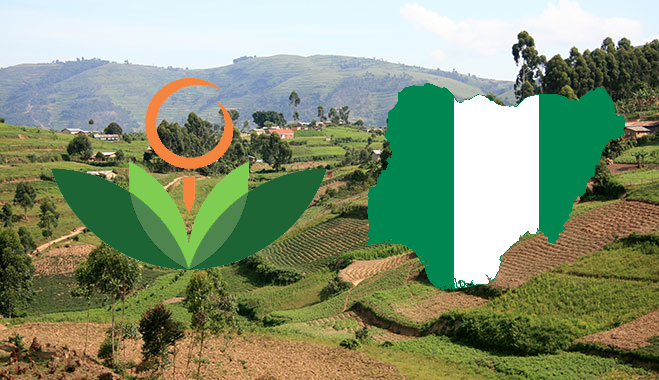 Nigeria is the most populous country in Africa (206,139,589 inhabitants in 2020) and boasts the largest economy in Africa. It has a total agricultural area of 70.8 million hectares, distributed in arable land (34 million hectares), permanent crops (6.5 million hectares), and meadows and pastures (30.3 million hectares).
Over 70 percent of Nigeria's agriculture sector remains at a subsistence level and it accounted for approximately 22% of the national GDP in 2020.
Some of the most important crops in the Nigeria are palm oil, cocoa beans, and pineapple. Nigeria is also one of the largest global exporters with oil, fruits, nuts, and seeds as some of the top performing export categories.
According to a survey conducted in 2019, about 50 percent of farming households in Nigeria were growing maize crops, the most common crop in the country. Cassava crops followed, with 46 percent of households growing this root. In addition, other widespread crops were Guinea corn, yams, and beans, with 20 to 30 percent of surveyed households cultivating them.
Currently, there is no official source of data published in the country regarding crop protection product registrations. Homologa® however, compiles this information directly from product labels at the distribution level. This allows Homologa® to collect the information from those products which are currently available in the market. At this time, Homologa® offers detailed information for 202 plant protection products in the country. This number keeps increasing as more products are being identified at the distribution level and consequently added to the dataset.
Homologa® updates the Nigerian dataset four times a year, including the following information:
General product information:
Product name
Current state (approved/expired)
Toxicity
Formulation type and class
Registration number and date
Expiration date
Holder
General Active Ingredient information:
Active Ingredient name
Concentration and unit
General usage information:
Full crop information
Full pest information
Dosage
Post-Harvest Interval (PHI)
Number of treatments
Additionally, both crop and pest stages, may be mentioned as well as methods of applications (including seed treatments)
Please visit Homologa ® or contact us for further information about Nigeria or any of the 93 countries available in our database
---